All About Wagoneer in Jasper, GA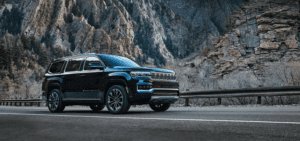 Long ago before SUVs were common in nearly every household, the Wagoneer held its own with its classic, wood-grain finishes, plenty of room to stretch, and top-of-the-line interiors. Once considered a vehicle for outdoorsy types only, the Wagoneer was suddenly a luxury vehicle for the skier, campers, and even suburban moms.
The beloved Wagoneer debuted in 1963 then fizzled out by 1991, only to return nearly 30 years later, much to the Jeep lovers' delight. Discover everything you need to know about the return of this beloved model here with Tutton Chrysler Dodge Jeep Ram of Jasper—and then contact us to learn how you can become an owner yourself.
Shop The Wagoneer Now
The Wagoneer Today
Today, you may not find the 1970s fake wood panels on the exterior of the Wagoneer, but you'll find plenty of other great features for today's family.
Jeep sought input from the Wagoneer of days past when designing the new Wagoneer. It's sleek and modern, but if you look long enough, you'll realize the original lines are the inspiration. Today's Wagoneer's exterior design is clean, simple, and ready to work.
The Wagoneer boasts the ability to seat up to eight passengers and offers several seating configurations. The Tri-Zone climate control keeps all your passengers happy and comfortable, so during a family vacation, no one can complain (except for the occasional, "are we there yet?").
Impressive stereo systems, Apple CarPlay, and a 10-inch touchscreen are just a few of the improvements in technology that your grandparents didn't have in their 1970s Wagoneer. Sorry, Grandma.
Cameras and sensors add an extra layer of protection for drivers and passengers, as well as collision warning and blind-spot monitoring.
Let's get to what Jeep is well-known for…capability. The Wagoneer comes back to us with its legendary 4×4 system, traction management, and a best-in-class towing capacity of up to 10,000 pounds. It does all of that with a 5.7L V8 engine.
The Grand Wagoneer at Tutton CDJR in Jasper, GA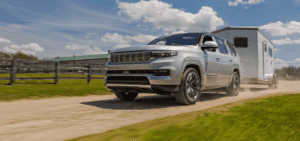 Every Jeep has a big brother, including the Wagoneer. The Grand Wagoneer is carefully designed as a classic, rugged, yet luxurious vehicle. You can put it to work, drive it cross country, and then take it out for a romantic Saturday night.
Enjoy features like a panoramic sunroof, tinted glass, LED lighting, retractable running boards, your choice of wheels, and beautiful colors to choose from.
Inside the Grand Wagoneer, the seats are pure luxury and you may end up no longer enjoying your living room couch. The Grand gives the original Wagoneer a nod of respect with charming wood grain designs that look nothing less than sophisticated, contrasted with metal surfaces.
And if you're feeling tense, set the ambient lighting and relaxation mode as the Grand Wagoneer front seat gives you a massage. Yes, the front seats have a massage setting. We don't recommend you start dating your Grand Wagoneer, but it may be tempting.
Four-zone climate control, legroom like no other, and a cabin designed for pure enjoyment and comfort make the Grand Wagoneer a dream.

Shop The Wagoneer Now
Visit Tutton Chrysler Dodge Jeep Ram of Jasper, GA
We don't know about you, but all this talk of the Wagoneer has us wanting to take a road trip in style. You can too. Come visit us at Tutton Chrysler Dodge Jeep Ram of Jasper, GA, and test drive the Wagoneer of your dreams. We can also help you with financing, making us your one-stop shop for a new vehicle. Tutton has always been family-owned, and you'll feel that when you walk through our doors and into our friendly, lodge-style showroom. We look forward to meeting you and talking all about the all-new Wagoneer.