Jeep Lineup in Jasper, GA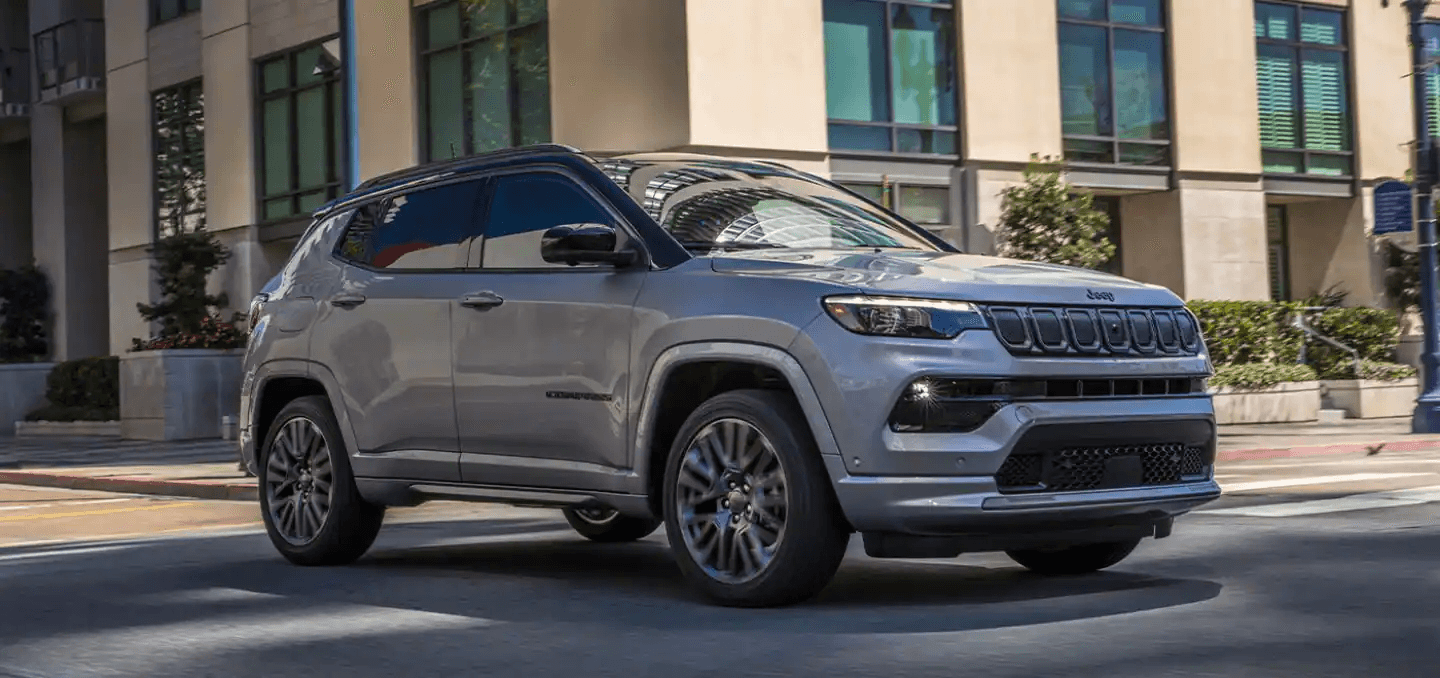 With the 2022 lineup, the Jeep brand continues to create a culture that is more than about crafting a car for drivers. If you know anything about Jeep, then you know the off-road car brand is iconic for its Jeep Wave, Jeep Ducking, and top-off capabilities.
While Jeep is impressive for its community and culture, individually, the vehicles boast freedom of adventure too.
2022 Jeep SUVs
Iconic and legendary, the Jeep SUV & Crossover lineup allows you to go anywhere and do anything.
Cherokee
Sleek and timeless, the 2022 Cherokee awaits adventure. Its standard compact SUV base V6 engine is excellent for everyday driving, along with easy maneuvering that allows you to steer around or climb over obstacles.
Grand Cherokee
Did you know the Grand Cherokee is the most awarded SUV ever? The 2022 Grand Cherokee has the option of a plug-in-hybrid 4xe powertrain, interior ambient LED lighting, intuitive technology with standard Apple CarPlay, and the ability to off-road, it's no wonder this packed model is perfect for any driver.
Grand Cherokee L
Some extra effort was put into the Grand Cherokee L for drivers who prioritize room. While there is the extra foot of length in the 2022 Grand Cherokee L from the traditional Grand Cherokee, the inside package is identical but still takes the cake with a bigger trunk.
Compass
As a crossover, the 2022 Jeep Compass makes a comeback with refreshing and modern features. Its exterior is pretty, but its interior is prettier as it welcomes drivers to a new dashboard design, tablet-style touchscreen, and ample angled seating.
Renegade
On the compact side of Jeep, the 2022 Jeep Renegade still offers legit off-road capability with the torquier turbo-four as the lone engine. The Trailhawk model remains popular due to its quick response to driver inputs, perfect for twists and turns.
Wrangler
If taking off your top is a desire, then the 2022 Jeep Wrangler will give you a thrill. It's hard to beat off-roading capability, and the choice of a muscular engine gives you the best of adventure and action.
Gladiator
Inspired by the Wrangler, the 2022 Jeep Gladiator continues to hold true to the rugged Jeep character and off-road ability. Since it's big and bulky, ride quality can be rocky, but the Gladiator is an excellent option for drivers that need reliability when hitting trails or hauling.
Wagoneer
The premium SUV offers a deluxe interior, redefined rides, and room. While the 2022 Wagoneer is luxurious, its standard eight-speed automatic transmission has off-road capabilities with additional drive options for its build.
Grand Wagoneer
In a bigger capacity, the 2022 Grand Wagoneer maintains a more upscale cabin with three-row seating and high-tech features. It's the ability to tow up to 9,850 pounds, and the multiple touch screens within its cabin make everything seem grander.
Shop Jeep at Tutton Chrysler Dodge Jeep Ram of Jasper
The lineup of Jeeps boasts capability and style that live up to the Jeep brand. If you're ready to climb up mountains or ride in style, contact our team at Tutton Chrysler Dodge Jeep Ram of Jasper to explore our Jeep inventory in Jasper, GA, today!