Commercial Vehicle Resources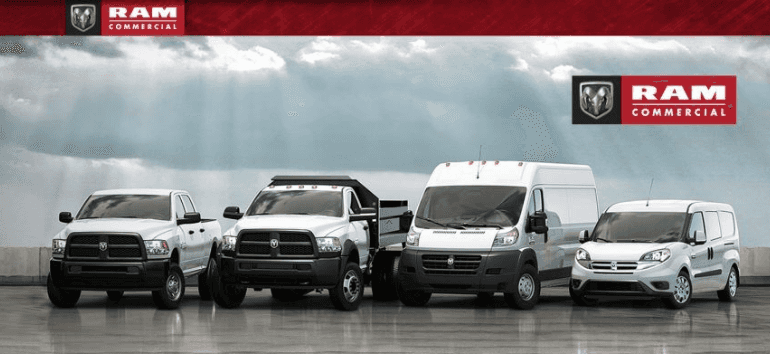 Commercial Vehicles Overview
Whether you own a small business or if you work in an industrial job, you may need a commercial vehicle to help you do everyday tasks essential to your success. Learn more about your options.
Commercial Vehicle Brochures
Browse our commercial vehicle brochures to find the work truck or van that is right for you. See Brochures.
Tax Benefits on Ram Inventory
Did you know that you can write off your RAM work truck on your taxes? That's right! When a small business or commercial group purchases or leases a new RAM truck for business purposes, they can take advantage of the IRS Section 179 and get a tax write off. Learn more.
RAM Agriculture Program
Ed Voyles Chrysler Dodge Jeep Ram is proud to be a Ram Certified Agriculture dealer in Marietta, GA! Our team understands the unique needs and challenges of those in the farming industry. We can help you find the best Ram truck for your needs and everything else you need after. See why it pays to shop with a Certified Ram Ag dealer in Georgia.
RAM 1500 vs Ford F-150
See the features of the RAM 1500 and Ford F-150 side by side. Learn more.
RAM 1500 vs Chevy Silverado
See the features of the RAM 1500 and Chevrolet Silverado side by side. Learn more.
RAM 1500 vs RAM 2500
Which RAM is right for you? Check out the specs with our side by side comparison of the RAM 1500 and RAM 2500. Learn more.
RAM Promaster Van Overview
The Ram ProMaster has all the power you need to get the job done right, and on time, without sacrificing gas mileage, saving you money! See why the RAM Promaster Van is best for your business today.
RAM Promaster City Overview
The Ram ProMaster City provides best-in-class cargo, unsurpassed towing capabilities, and a standard 448 highway mile driving range to handle all of your business' needs. Plus, this commercial vehicle can be customized to meet your unique business needs!